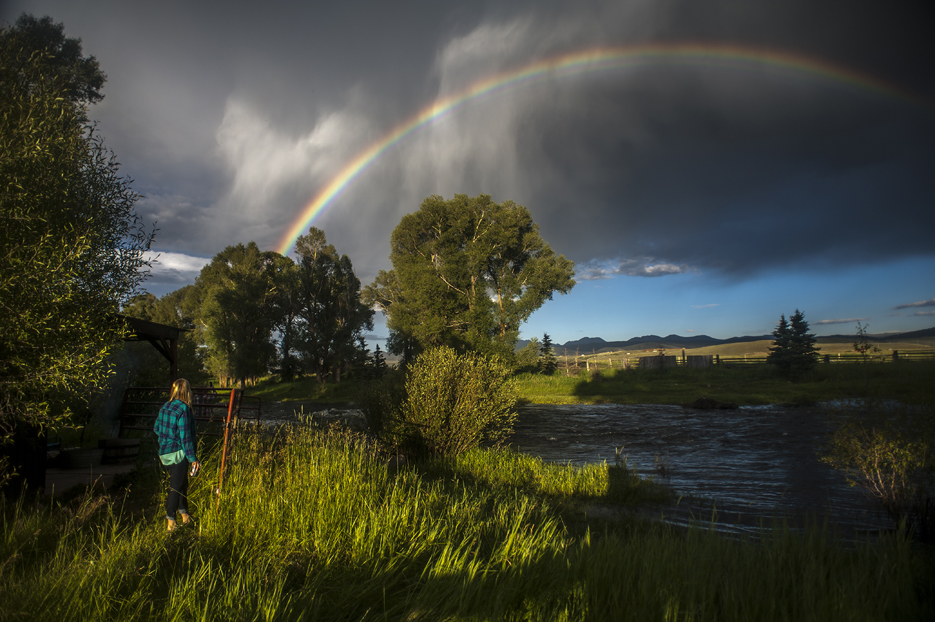 The Evans family in Granby
There are moments when I am overcome with gratitude for the life I get to live through my job.  Most of the time I am running around trying to catch Sylvie from flinging herself head first down the stairs while I pack up all my camera equipment to get to a shoot on time–there are not enough hands. And certainly not enough time.  I'm a busy mama and I am shooting and editing so much that I often forget to take a moment to really study and reflect on the images that I make.  Photography is my full time job.  I'm literally supporting my family making portraits,  so most of the time I'm 100% focused on pleasing my clients.  I forget that I get to make art.   A couple of weeks ago however, I had the opportunity to photograph the Evans family at a 100-year-old homestead in Granby, CO.  I've been working with Callie for 5 years and had photographed her extraordinary wedding to Wes in New Orleans back in 2012, so there was no question that photographing this little family would be nothing short of spectacular.
There had been a hailstorm that moved through right before I arrived, so the sky was moody, the air eerily quiet, the leaves were torn in bits all over the ground, and all the kiddos were wrapped up in warm colorful sweatshirts to stay warm on the riverbank.  The landscape was breathtaking–like something out of a Laura Engles Wilder book, and I immediately forgot that I was "working" and started shooting magically, from pure intuition.  This is when I know I'm doing what I'm supposed to do with my life–when making images is so natural that I don't even know that I'm doing it.  It's a way of expression and quite literally my third eye's way of seeing and experiencing the world around me.  This Mississippi family let me spend an evening with them, capturing a small slice of their vacation in Colorado–and I was in heaven.
On the way home, I stopped to fill up at a gas station and didn't want to be done.  I felt so refreshed and wanted to just keep driving into the dusk with my windows down and a cigarette. This is how a good shoot makes me feel.  Free.  Alive.  Like I'm traveling with no agenda.  This shoot awoke something in me that made me stop for a moment and breathe.  It made me feel abundant in gratitude.  I remembered that I am beyond blessed to get to do what I do for a living.
This night, on a river  in Granby with a fun-loving family, I was making art–no question about it.  Thank you Callie and Wes. For all of it.