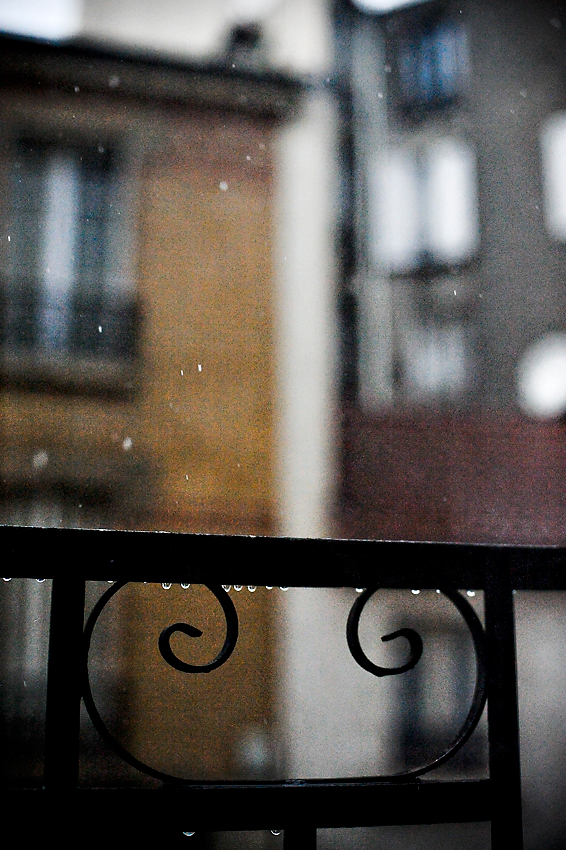 It's snowing in Paris today. I woke up to that completely silent sound of snow– no chatter outside, no cars whizzing by and nobody climbing the stairs of this historic building. It was such a gift! Sundays in France are days of cocooning anyhow, but when it's cold like it is today and also a Sunday, nobody moves. I thought about going out to do some shooting at Luxembourg gardens but, like everybody else here I stayed in bed all day long. I read, I prayed, I meditated. I drank hot black coffee and ate homemade chocolate crepes and cocooned. It was a good healthy choice, although I did take some photos from my window.
I'm only here for another 2 days. November 26th has been a landmark that I have both looked forward to, and dreaded for the entire 6 weeks that I've been here. I feel like this sabbatical has been like rehab— a time of regathering my strength, creativity and sense of self. But there is a life at home waiting for me that I'm eager to get back to.
What a journey this six weeks has been. Even looking back to that first day here, I am shocked at my spiritual growth. I've actually been making some self-portraits (probably won't be blogging those), I look ten years younger today, and there is life in my eyes that wasn't there on October 15th…. I've read about 6 books, gone through a journal and 1/2 and have taken over 2000 digital photos and 7 rolls of film. I've gone to many exhibits including the best one last night that included bodies of work from Mary Ellen Mark, Diane Arbus, and Walker Evans and have rested. Ahhhhh, the rest has been the best. I don't even know how to conclude this season other than to say thank you to all who supported me in this venture and to those clients who have been patient enough to wait for their wedding photos. The images attached are just a potpourri of some more street photography that I've taken along the way…. I'll probably post a few more images from the film that I've gone through in the next week or two, but for now—Merci et a bientot!