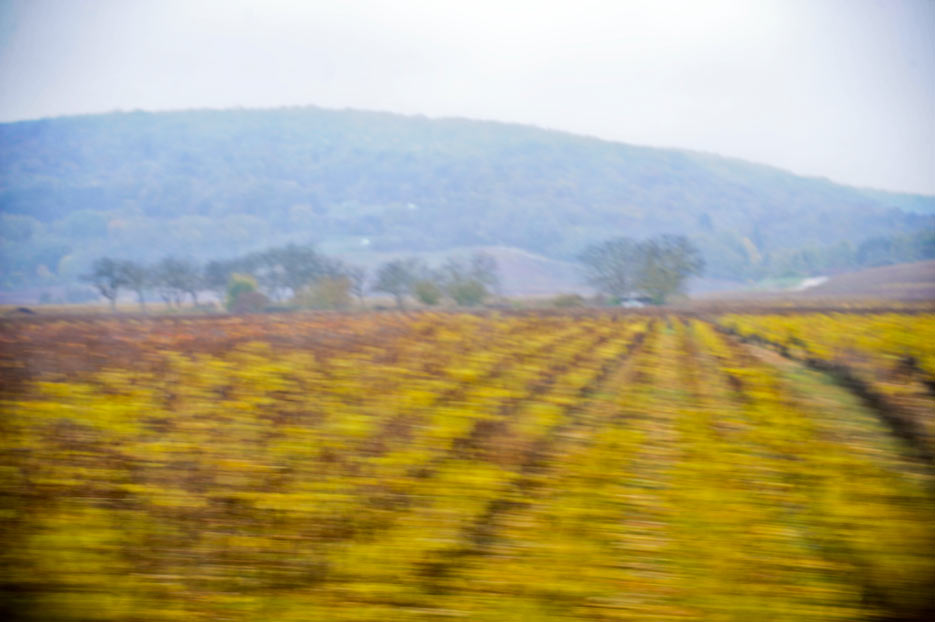 Actually, I have no idea what "burgundy" is in the liquor stores at home…. It might just be a table red, or cooking wine, because the region of Burgundy only produces two grapes—Chardonnay and Pinot Noir. Every true Burgundy wine is made from these two grapes and is 100% pure. I'm not a chardonnay girl, but I loved the Pinot Noir wines in this region—very different than a California Pinot Noir– quite earthy, like I like them.
We lucked out because it was only Audrey and I, and the guide on the tour. The guide's name was Nicolas, and he seriously kept his head set on the entire trip, while he talked—even though the tour was in a van, and Audrey and I were in the seat behind him. I got a kick out of this—especially on the way back after I had tasted 8 glasses of wine (small glasses, of course). The tour itself was disappointing (aside from the fact that it was pouring rain) in that it cost about $80, and we drove through all these amazing vineyards and tiny little medieval villages, only to arrive at a commercial wine cellar where they tried to sell us more. I asked the driver if he wouldn't mind, seeing as it was only the three of us, stopping the car so I could do some photographing. Apparently, for insurance reasons they could not do that. So, I was a caged bird in the backseat of a van with all this beauty buzzing by me. Seriously—these villages were straight out of the film, "Chocolat" with Johnny Depp.
Unfortunately, all of the photos that you see here (aside from the images taken in the cellar) were taken from inside the van. Like I said in my last post, the next time I visit France I plan to rent a car and tour this area on my own—with a designated driver!